Top 10 Holiday Light Attractions in Philadelphia
---
Top 10 Holiday Light Attractions in Philadelphia
There is no better time to explore everything Philadelphia has to offer than during the holidays when the city is covered in holiday lights and decorations. From the iconic light show at Macy's, to the secretly tucked away displays on Smedley Street, there is an event for everyone. Team Damis representatives have listed their favorite 10 holiday light events (plus a bonus event on the December 7th), to make your holiday in Philadelphia perfect!
1. Miracle on South 13th Street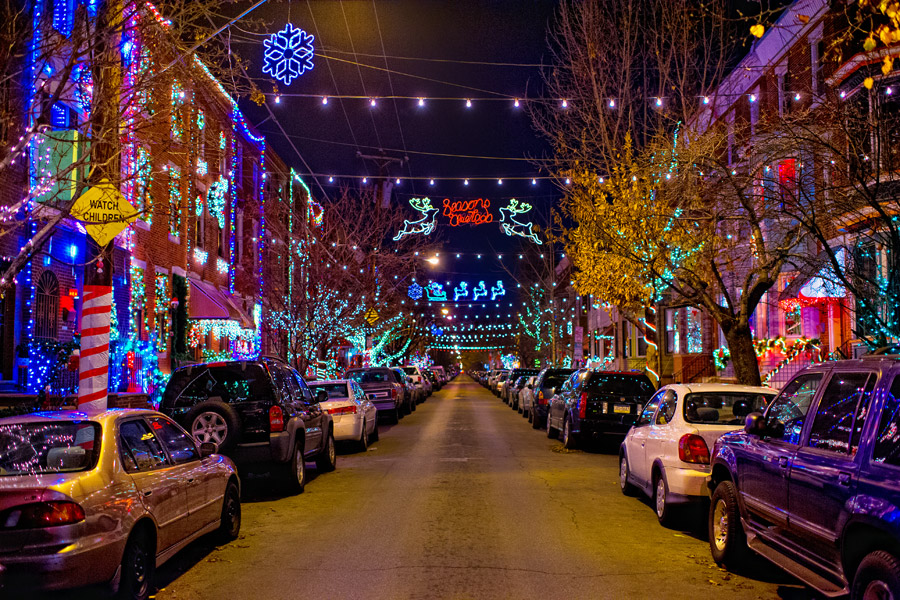 The Miracle on South 13th Street is an elaborate neighborhood effort to spread as much holiday spirit as the rise in their energy bills. For over twelve years, the 1600 block of South 13th Street has hosted a spectacular lighting extravaganza, which many residents flock to. As a feat of neighborhood ingenuity and teamwork, this is an amazing street to drive or walk through anytime throughout the holiday season—this sight is even better when shared with your friends and family.
--Greg Damis, Team Damis
2. Smedley Street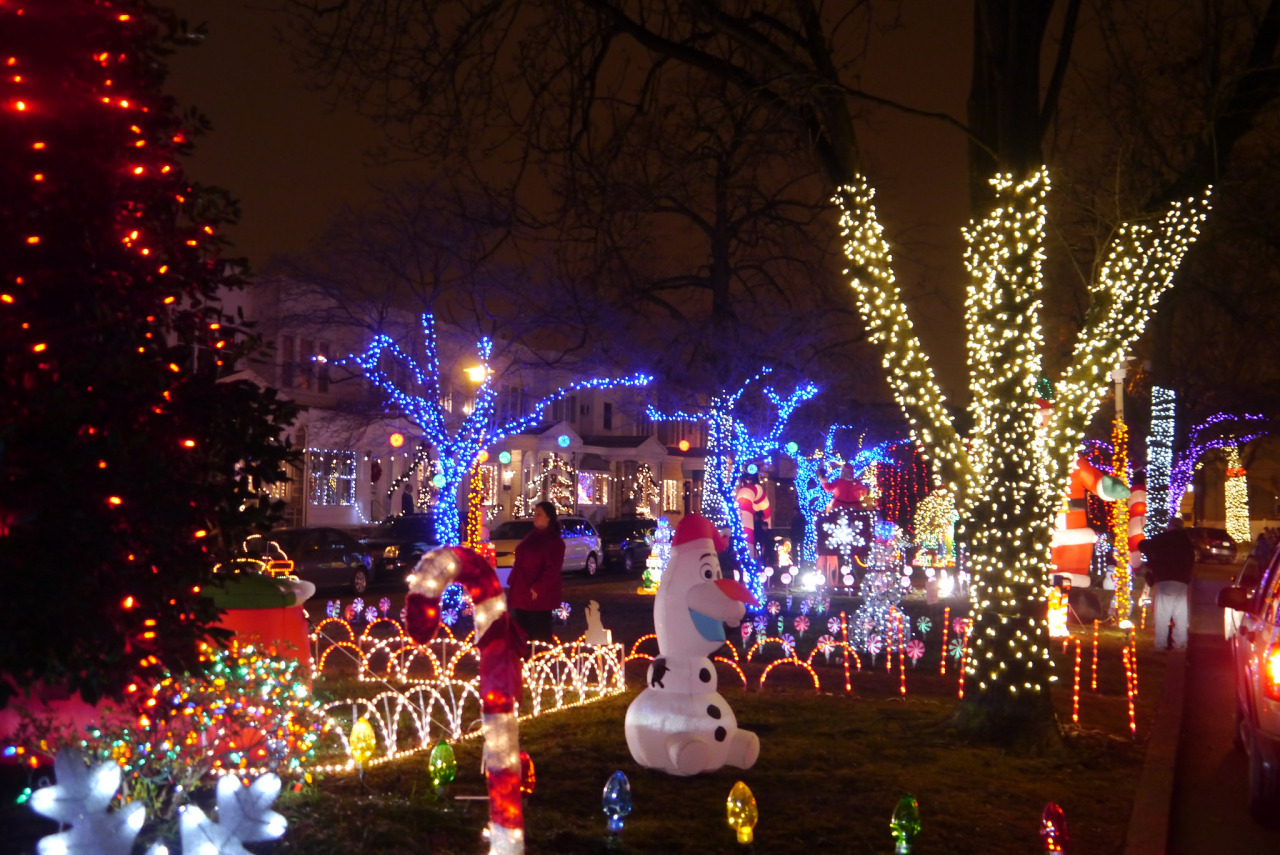 Smedley Street is a hidden gem among the city's list of holiday hot-spots. Located in South Philadelphia, on the 2700 block of Smedley Street, between 16th and 17th, and Moyamensing and Oregon Avenues. This block-long holiday light show is the definition of a community coming together to celebrate the best time of the year. It's always exciting to see what new and creative display they will do each year.
--Anita Ligambi, Team Damis

3. Macy's Christmas Light Show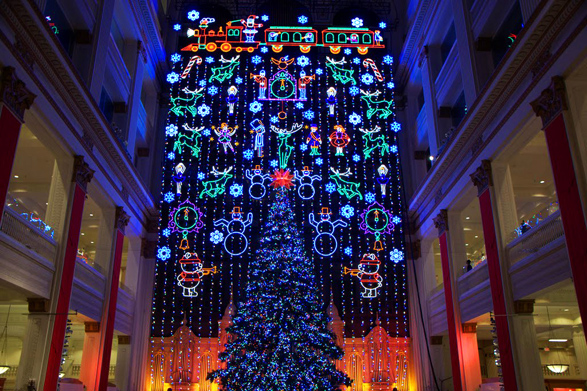 The Macy's Christmas Light Show and Wanamaker Organ Concert is long-standing Philadelphia tradition for the holidays, located at Macy's Center City location, since 1956. The light show is accompanied by the Wanamaker Grand Court Organ, which still stands as the largest fully-functioning pipe organ in the world.
When Macy's was still the Old Original Wanamaker's, my college crowd always worked the extra-hire seasonal retail jobs. When taking our breaks, we loved "meeting at the eagle" to watch the spectacular lights, to hear the beautiful organ playing carols, and to catch up with our-of-state college friends. As "Wanamaker family" employees we sometimes got to go backstage to see the huge pipe organ up close.
The light show schedule is booked daily until December 31st, with show-times every 2 hours from 10 AM to 8 PM.
--Mari Scarpulla, Team Damis
4. Franklin Square Holiday Festival & Electrical Spectacle Holiday Light Show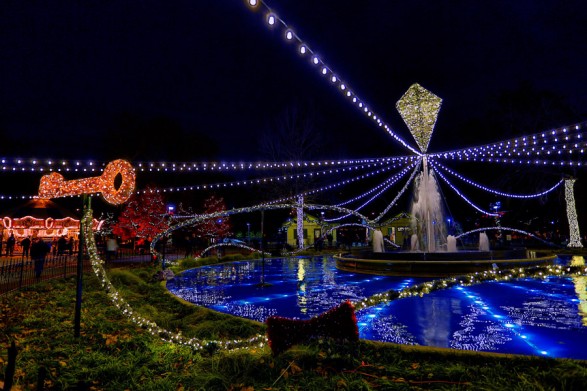 Otherwise known as the Electrical Spectacle Holiday Light Show, presented by PECO, this show makes one of the original five squares of Philadelphia light up the holidays with inspiration from Ben Franklin. This year they're featuring alrescro fire pits, seasonal treats, dancing, and a beer garden! Check out the centerpiece kite (in the picture above)! With free admission, the holiday light show, consisting of over 80,000 lights, takes place from November 14th, to December 31st, with two alternating shows running every 30 minutes. If you are there at 4:30 PM, then you may have a chance to "ignite" the show for the remainder of the night! Show time durations and days may be found below.
Sunday-Thursday: 4:30-8:00 PM, Friday-Saturday: 4:30-9:00 PM
--Fred Santilli, Team Damis
5. Jeweler's Row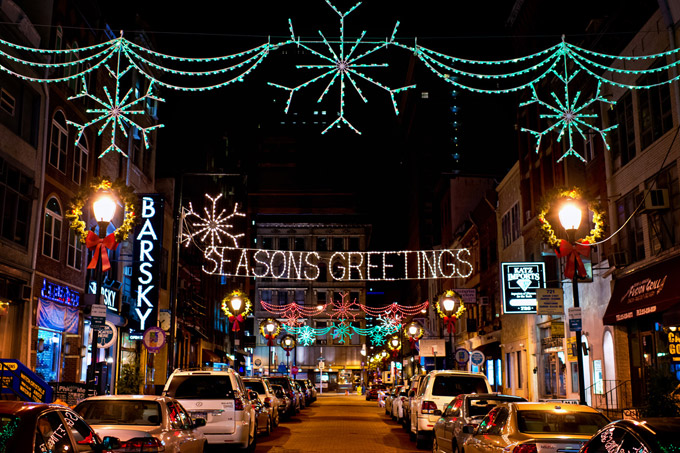 Holidays at Jeweler's row on Sansom Street—between 7th and 8th Streets, and Chestnut and Walnut Street. One of my favorite local traditions is to finish shopping in town, then head to Jeweler's row to marvel at the spectacles that connect in arches over the street, hot chocolate in-hand. Many times I join in the holiday spirit and shop with friends to see the beautifully lit street.
--Marie Scarpulla, Team Damis
6. Comcast Center Holiday Spectacular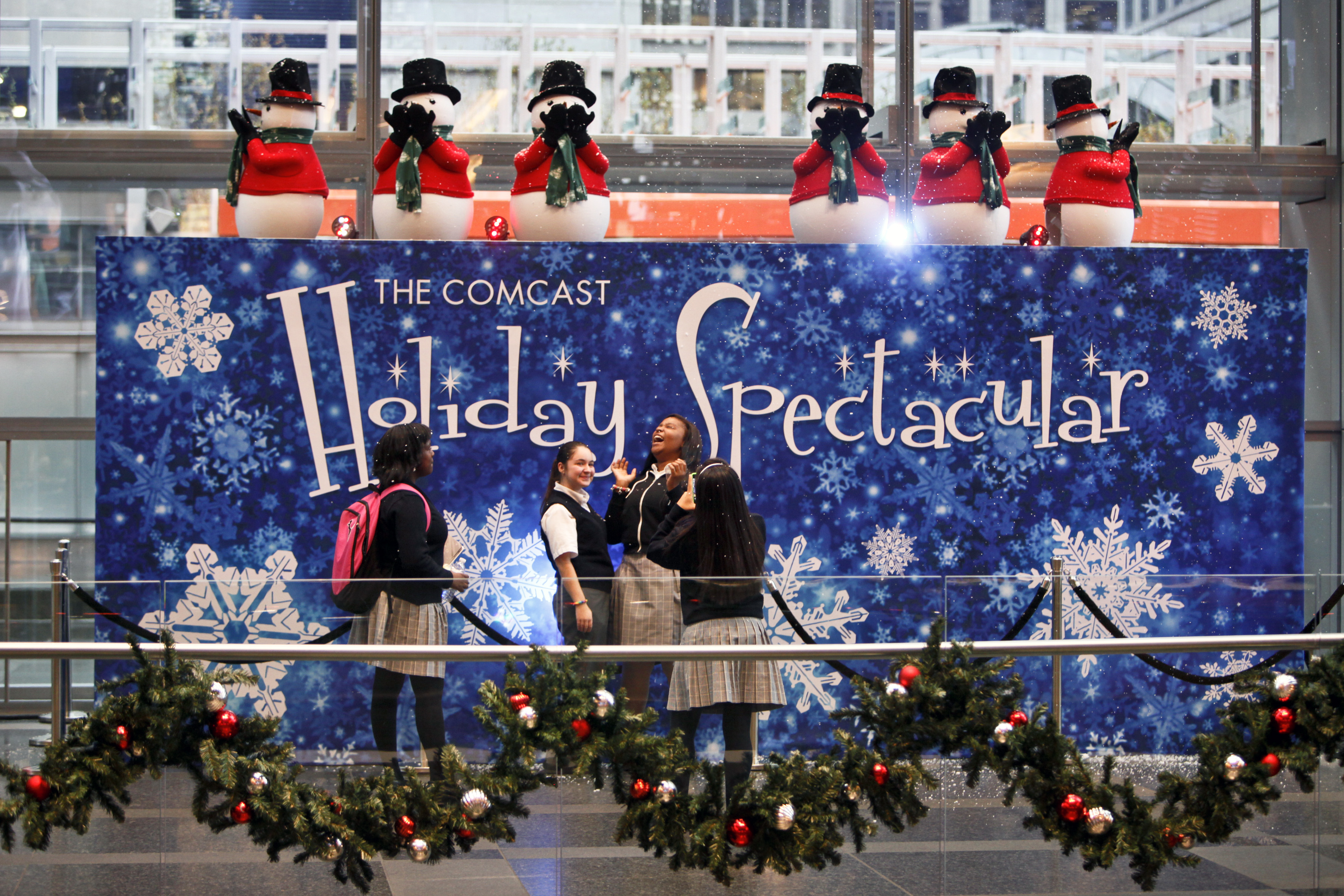 The Comcast Center is one of the worlds largest, and highest-resolution LED displays, and has held an annual Holiday Spectacular filled with spirit of the season, along the Comcast Experience video wall, since 2008. This 15 minute show encompasses song and dance, including segments of The Nutcracker by the Pennsylvania Ballet, and an exhilarating sleigh ride experience. The show is running from November 28th, to January 1st, daily at the top of each hour—10:00 AM to 8:00 PM, excluding weekdays at 5:00 PM.
--Marc Silver, Team Damis
7. Rittenhouse Square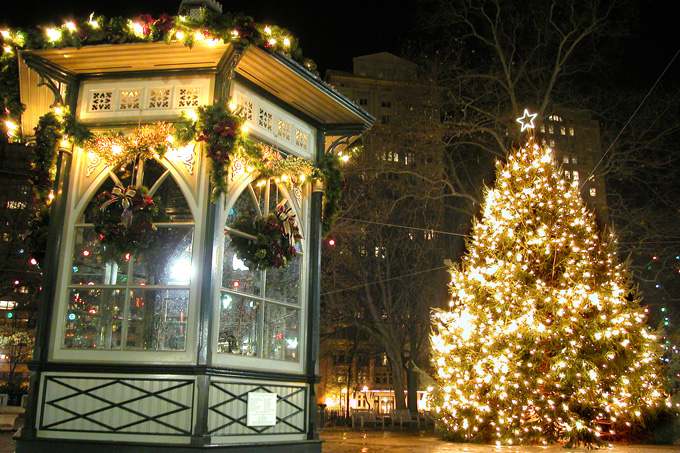 Annually, Rittenhouse Square is host to one of the city's largest Christmas trees during the holidays—generally averaging over 30 feet tall. The tree lighting ceremony takes place on December 3rd at 5:00pm, after which, the tree will be lit in combination with the surrounding 5,000 colorful globes encompassing the entirety of the park. If holiday shopping becomes overwhelming at any point, Rittenhouse Square is a great choice to get lost in cheerful holiday spirit.
--Paul Knese, Team Damis
8. Blue Cross RiverRink Winterfest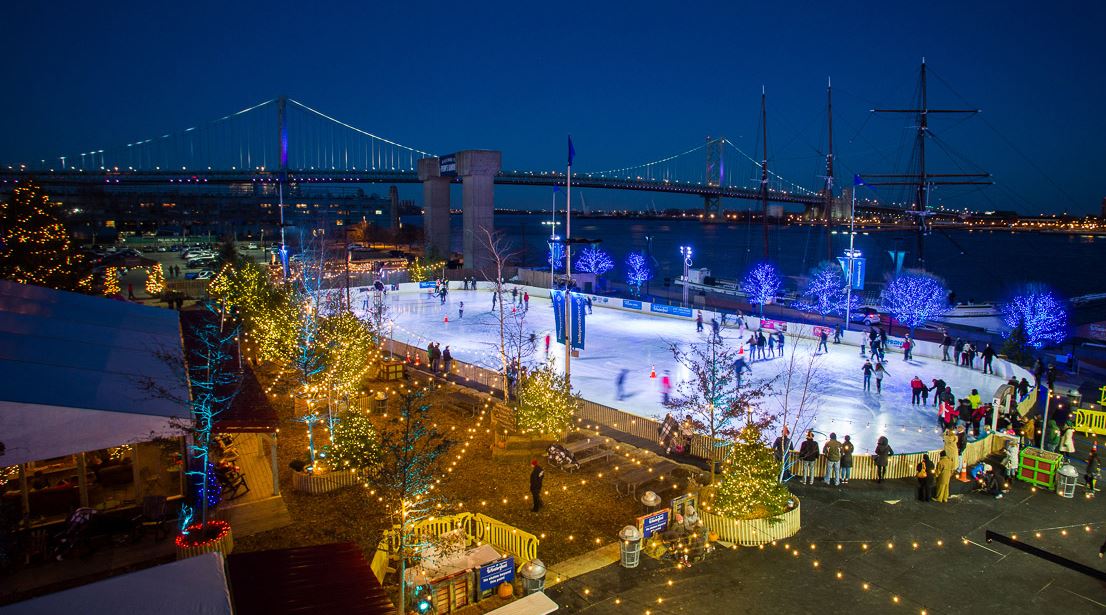 The Blue Cross RiverRink Winterfest is an annually-installed, outdoor olympic sized ice skating rink, with this year being its 23rd year of operation. The rink hosts public-skate openings, accompanied by spectacular color-changing lighting arrangements and visualized music, enhanced by the reflection of Delaware River. There is also great food, drinks, entertainment, and newly designed lodges and cabins. This year, the RiverRink will be operational from November 29th, to March 8th, and skating admission only costs $4.00—skate rentals are an additional $10.00.
--Kristen Knight, Team Damis
9. American Garden Capital Maze at Dilworth Park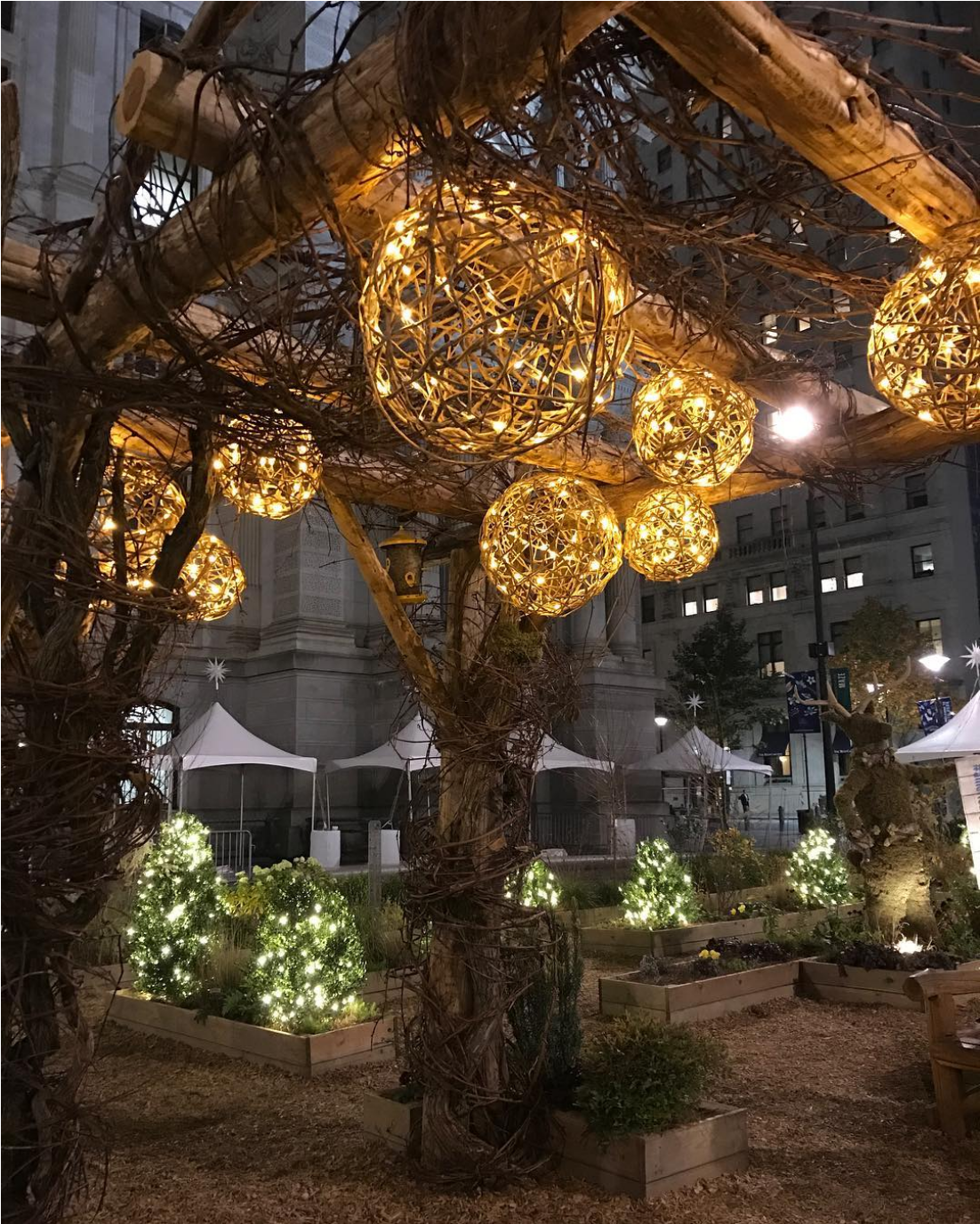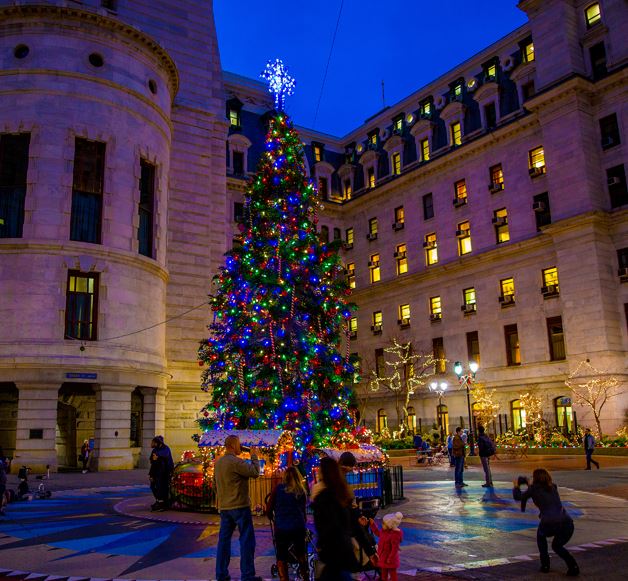 This year, Dilworth Park is hosting a new pop-up maze-garden, made possible through a partnership with Greater Philadelphia Gardens. The maze itself is not holiday themed, but this year both the Christmas Village and giant Christmas tree are in Dilworth Park as well! Check out the pop-up maze and then grab hot chocolate and stroll through the Christmas shops.
--Daryl Ridgeway, Team Damis
10. Boathouse Row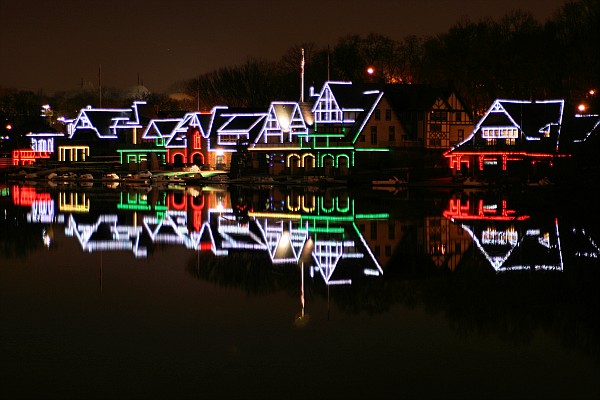 Lining the I-76 entryway into Philadelphia along the Schuylkill River, lies one of Philadelphia's most iconic nighttime scenes, Boathouse Row. Each one the twelve clubs is lit throughout the year, but becomes particularly colorful around the winter holidays. Having had a new lighting system installed in July, Boathouse Row will have a more colorful and vibrant show this winter than every before. Driving along Boathouse Row, on Martin Luther King Drive, is the choice of many during the holidays; it's rare to get such great views so close to the city!
--Danielle Mills, Team Damis
BONUS EVENT - Parade of Lights!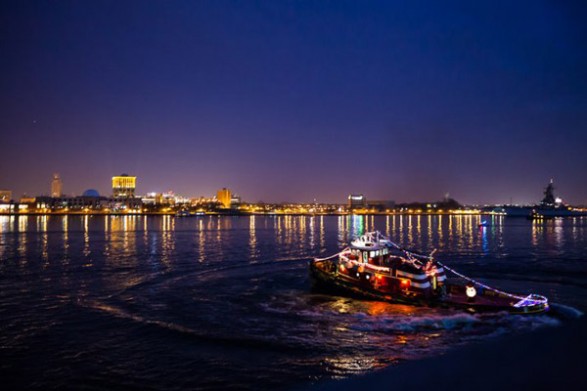 Saturday, December 7th, 2016 at 5:15 p.m.
Head to the Delaware River Waterfront for the annual Parade of Lights, a lighting celebration unlike any other in the city. This boat parade features both pleasure boats and working vessels decked out in fabulous decorations and lights. Before the parade, head to the Independence Seaport Museum, which is hosting the parade, for holiday activities and festivities. There will also be face painting, santa's workshop, family photos, and a booth for decorating your own gingerbread boats ($5)! (Tip: The best view for the parade is from the second floor balcony of the museum.)
-- Darlene Deapo, Team Damis