2019 Philadelphia Al Fresco Dining Spots
---
Warm weather that is made for eating and drinking outdoors has finally descended upon Philadelphia! Take in the city skyline and river views from rooftop bars, have a cocktail and people watch while sidewalk seated, or eat a delicious brunch or dinner while tucked away in some of Philly's private urban escapes. From hidden gardens to sprawling decks, restaurants all over Philadelphia offer an al fresco tour of flavors.
POSITANO COAST
212 Walnut Street, Upper Floor
A Team Damis favorite for happy hour or a quick lunch, the upstairs terrace at Mediterranean restaurant Positano Coast is a great option! Aldo's Seafood Harvest is perfect for sharing.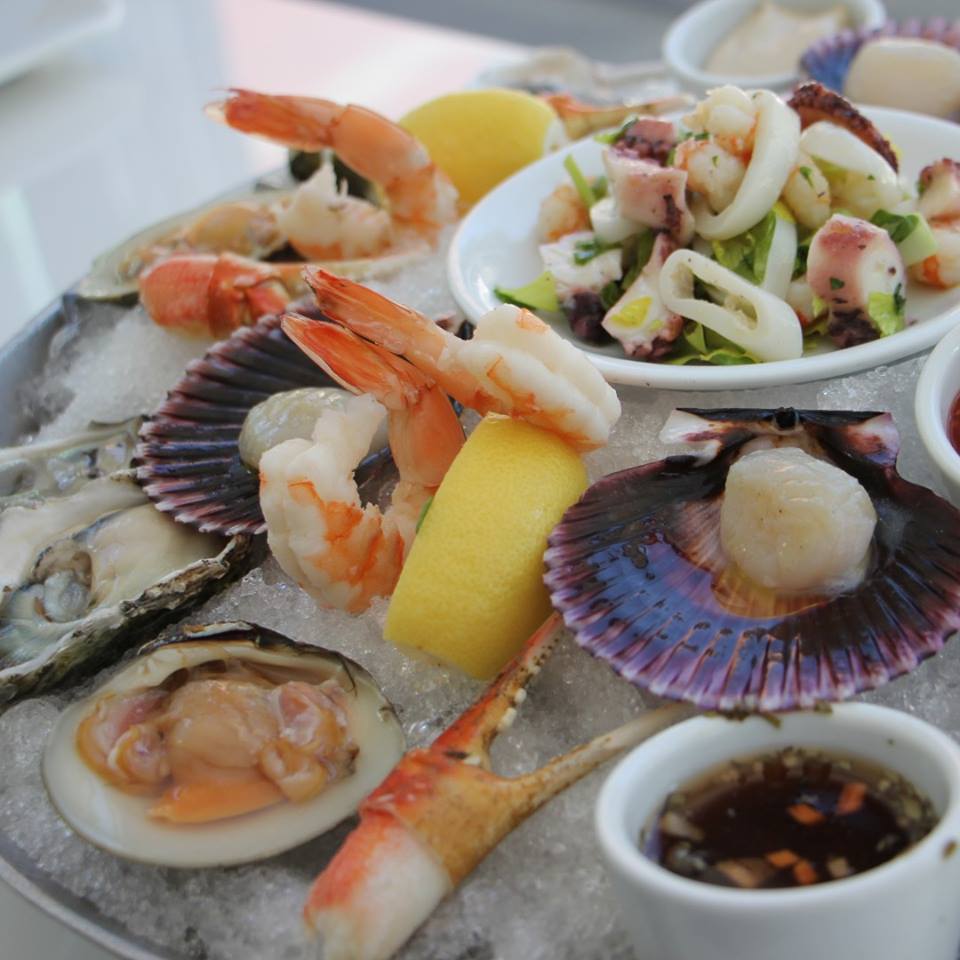 ASSEMBLY
1840 Benjamin Franklin Parkway
You can't help but be impressed with the views from Assembly at the Logan Hotel. Coupled with delicious food, sip a drink while overlooking the Ben Franklin Parkway and Philadelphia Museum of Art in one direction and City Hall in the other. Fire pits, cozy couches, and quite a selection of small plate options show why Assembly is a summer dining destination.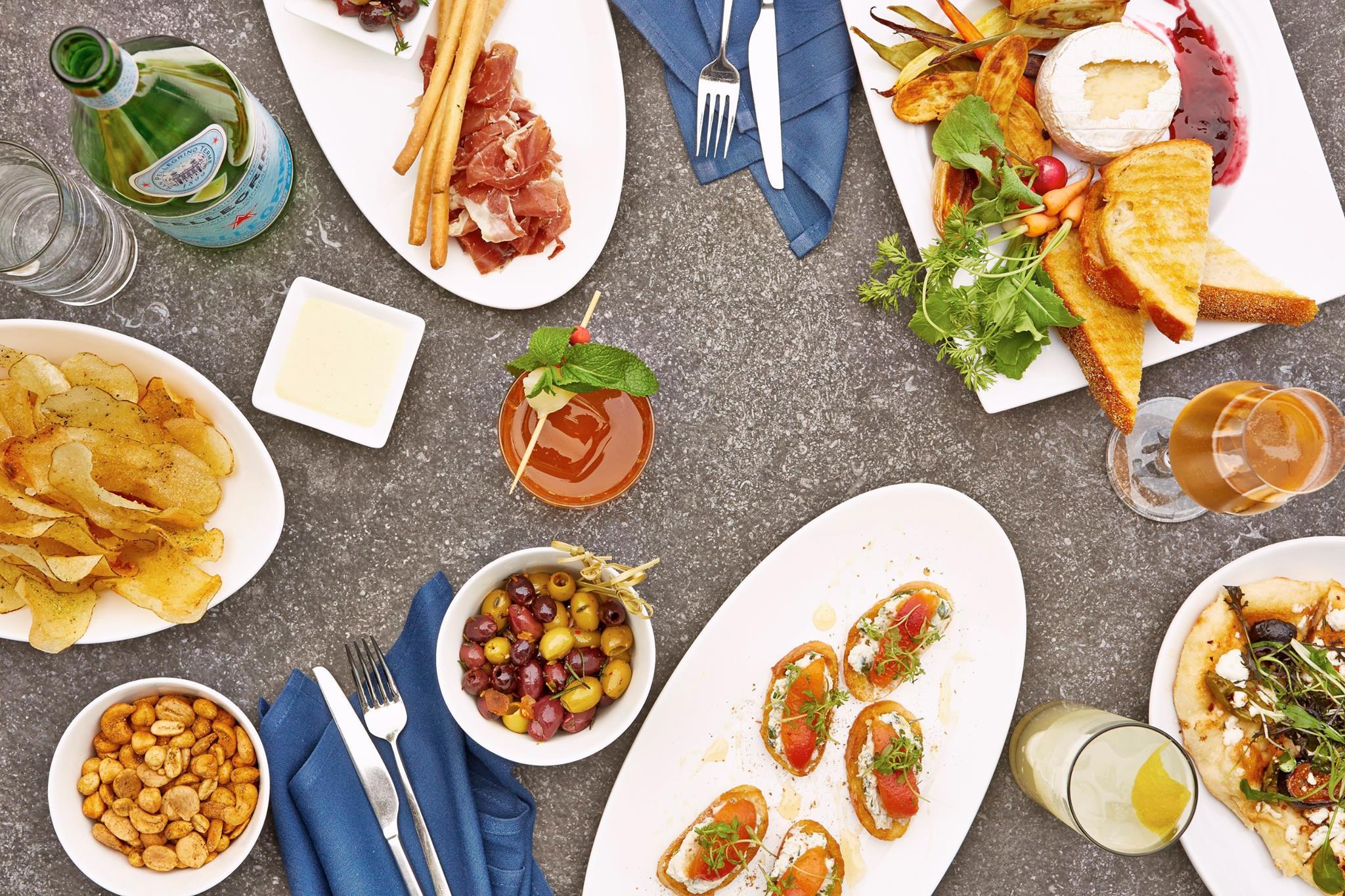 PARC
227 S 18th St
Stephen Starr's French brasserie Parc, sits you right on Rittenhouse Square for an afternoon or evening of delicious french food and the best people-watching in town. With great food and good company, in the beautiful and historic Rittenhouse location of Philadelphia, "Parc is a lightly perfumed love letter to all the City of Light has to offer, written in a distinct Philadelphian hand."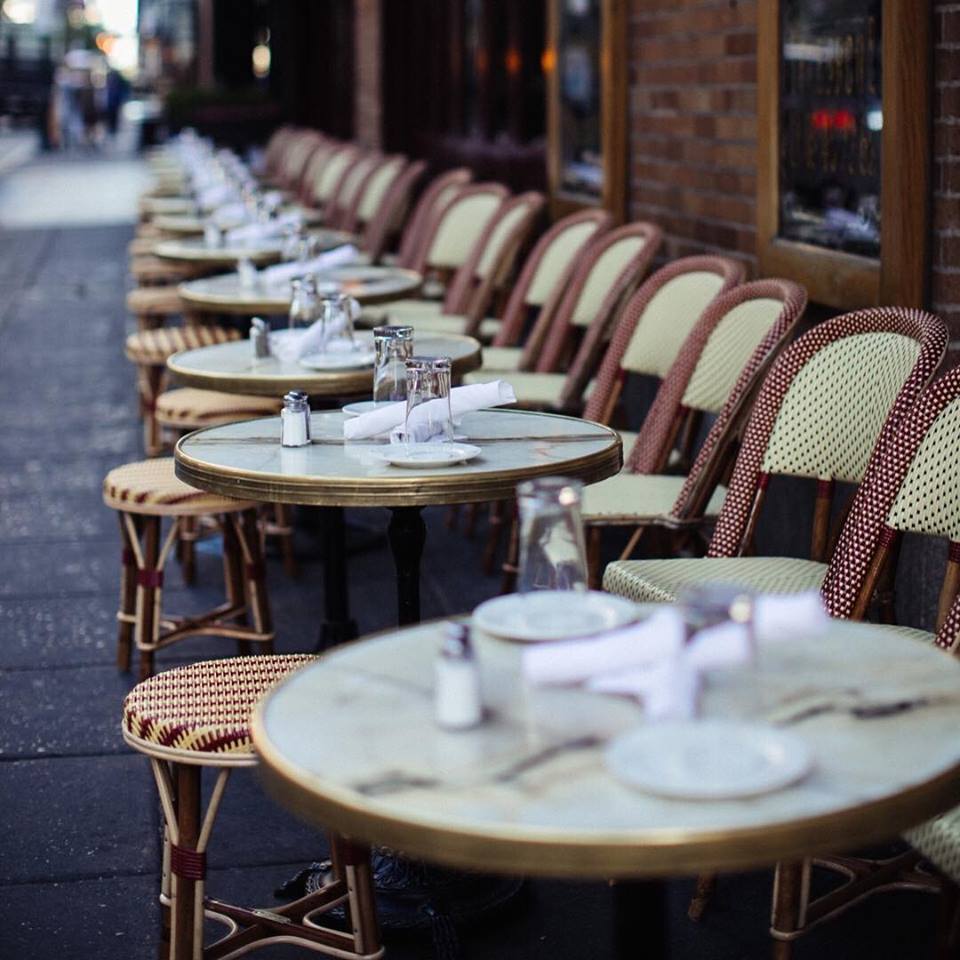 BARCELONA WINE BAR PASSYUNK
1709 E Passyunk Avenue
The patio that overflows with greenery at Barcelona, the Spanish tapas and wine bar on East Passyunk Avenue, offers seclusion for an intimate dinner, while still being able to feel the hustle and bustle of Philly's hottest restaurant neighborhoods. The glazed parsnips and carrots with a glass of award winning wine is a fan favorite of ours!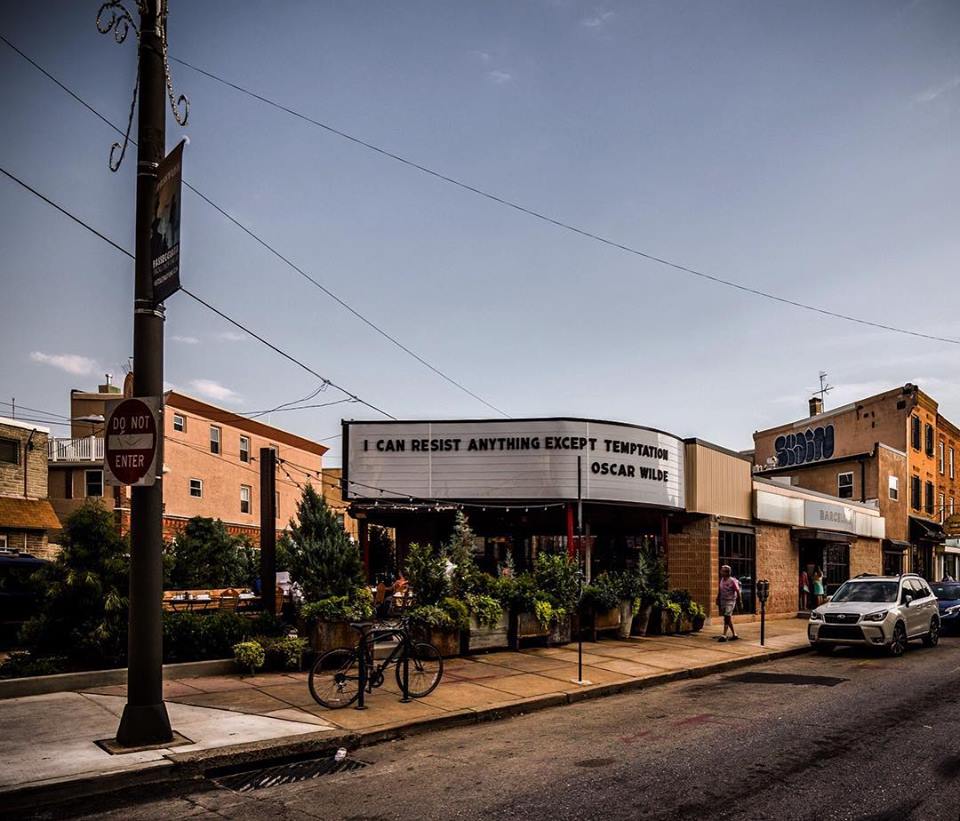 LITTLE NONNA'S
1234 Locust Street
The cozy outdoor garden at Italian restaurant Little Nonna's in the Gayborhood seats 40 and is completely tucked away from the street! The antipasti and famous sunday gravy (that they only have until they run out!) will take you right back to dinner at your grandma's. Enjoy house wine by the carafe with your friends under the overhead strung twinkle lights.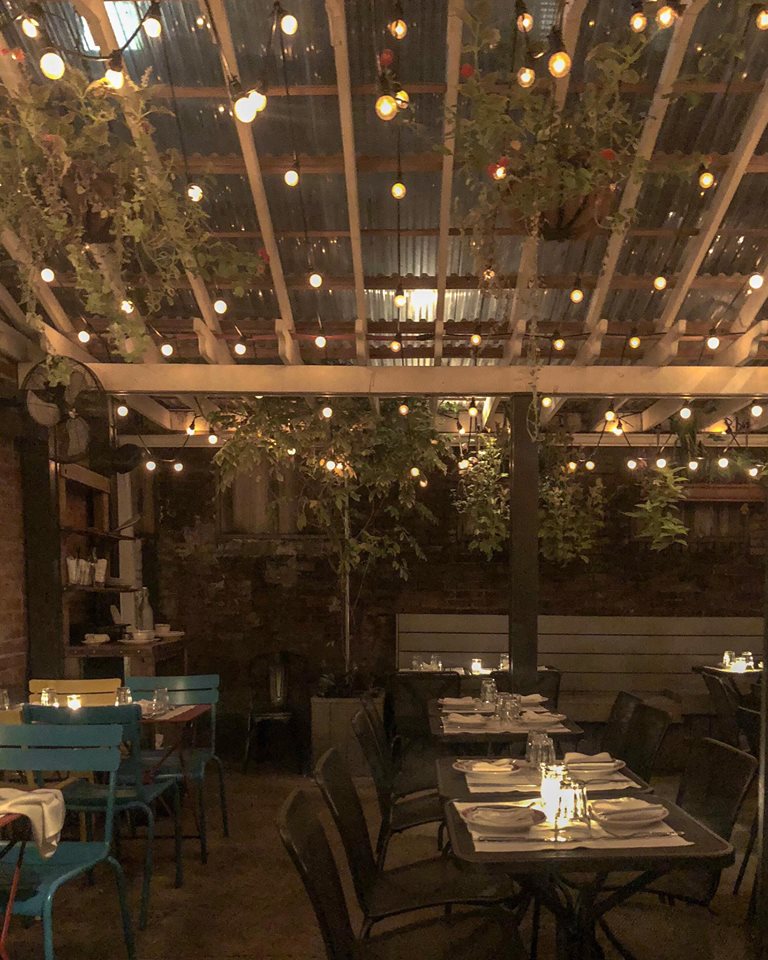 FRONT STREET CAFE
1253 N Front Street
Diners will find a huge sunny garden and patio with wooden tables and a wall of bamboo plants, perfect for a lazy saturday morning summer brunch! Head to Front Street Cafe for a hearty breakfast, lunch, or a dinner and fear not vegetarians and vegans… they have a decent select of options for you too! Looking at you, Vegan Waffle Bites!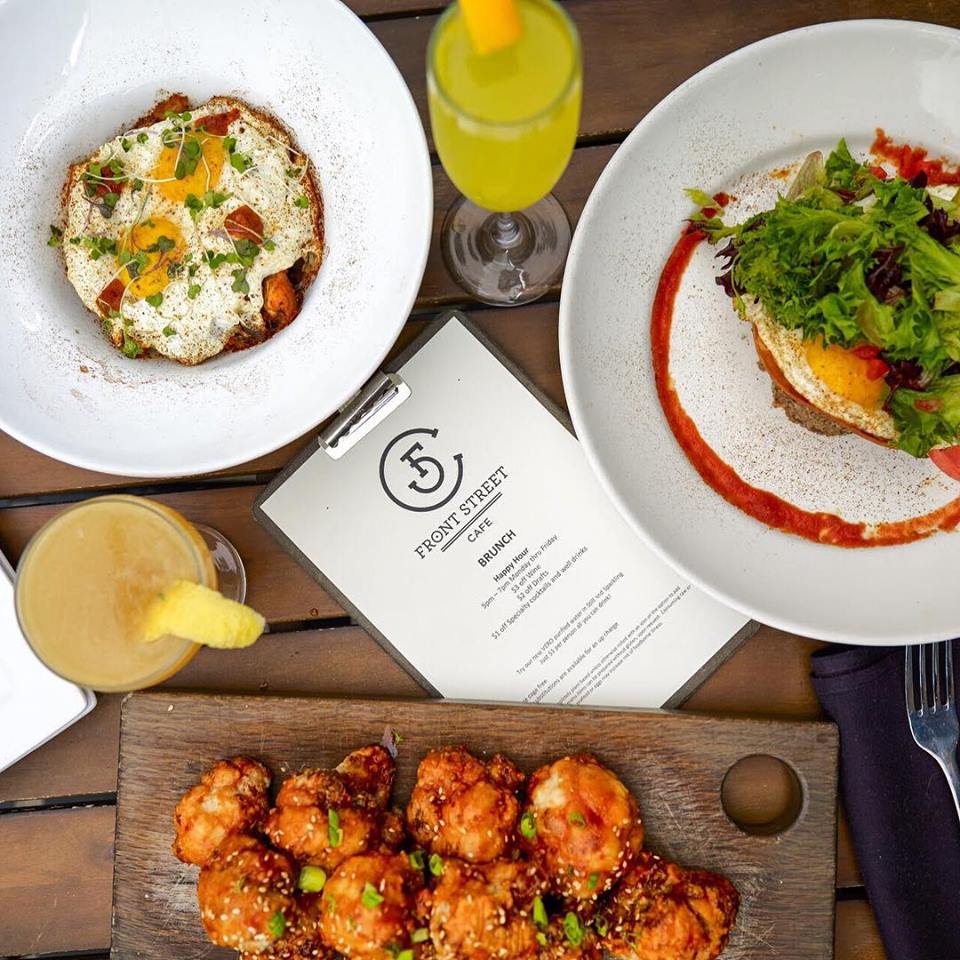 SPRUCE STREET HARBOR PARK
301 S Christopher Columbus Boulevard
Colorful hammocks, floating gardens, beautiful lights, refreshing craft beer, and food from popular Philly restaurants, all in a waterfront locale- makes Spruce Street Harbor Park a winning combination and destination food spot for Philly natives and visitors alike! Food options featured this 2019 season include Hip City Veg, Chickie's & Pete's, Garces, Franklin Fountain, Frozen Delights, and several bars.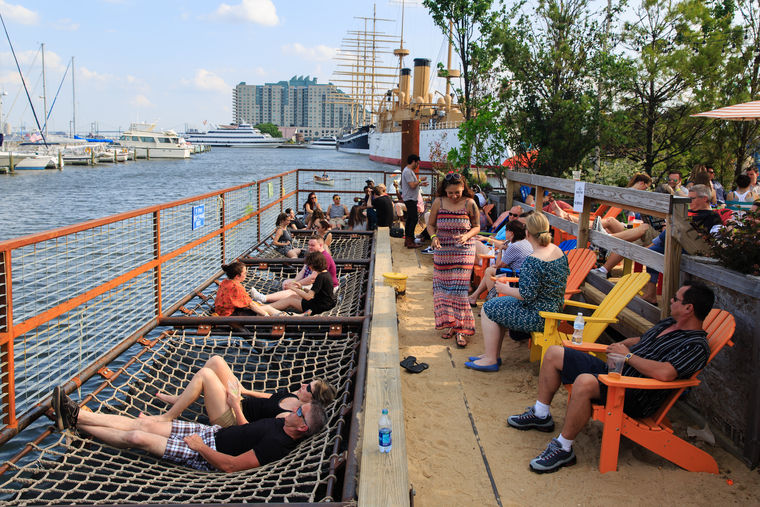 MORGANS PIER
221 N Christopher Columbus Boulevard
Set on the Delaware River, Morgan's Pier is an expansive beer garden with gorgeous Ben Franklin Bridge views, options for private parties, and events all summer long! Every new season features a rotation of chefs, each bringing a different perspective and delicious menu. Fun fact: "Morgan's Pier is named after George C. Morgan, a construction worker on the Benjamin Franklin Bridge 85 years ago, who is credited as being the first person to cross the bridge. He defied his boss' orders and shimmied across the wires before the deck was completed."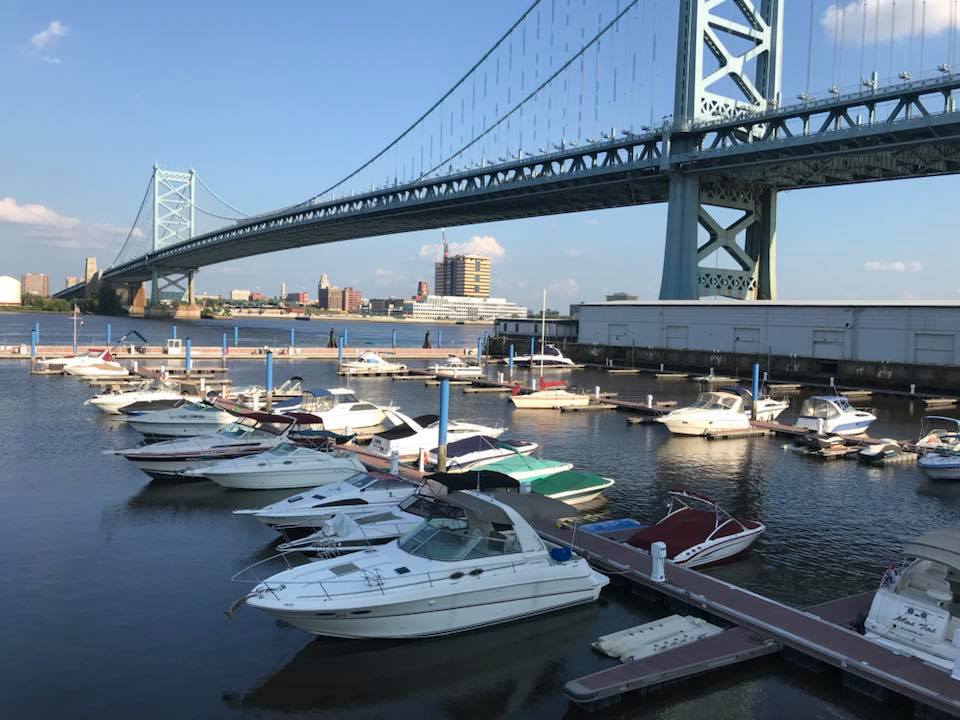 AMERICAN SARDINE BAR
1800 Federal Street
American Sardine Bar's outdoor space in Point Breeze feels like hanging out in a friend's backyard; super casual with lawn chairs, patio tables, flower filled window boxes, and string lights. Your friend, who is now our friend, is an excellent cook, offering up Salsa Verde Wings, Grilled Sardines, and an excellent revolving Beer tap list.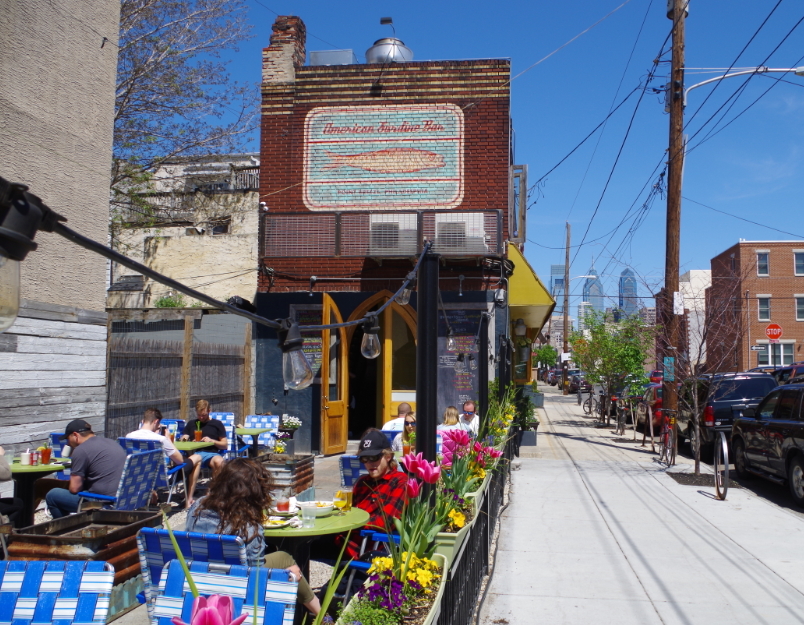 THE MOSHULU
401 S Columbus Boulevard
The world's oldest and largest four-masted tall ship offers unsurpassed views and a unique backdrop for intimate to extraordinary dining and celebrations. Fantastic waterfront breezes are enjoyed especially during Moshulu's famous happy hours with small plates, beer and wine by the glass, and cocktails, with all drinks being $5!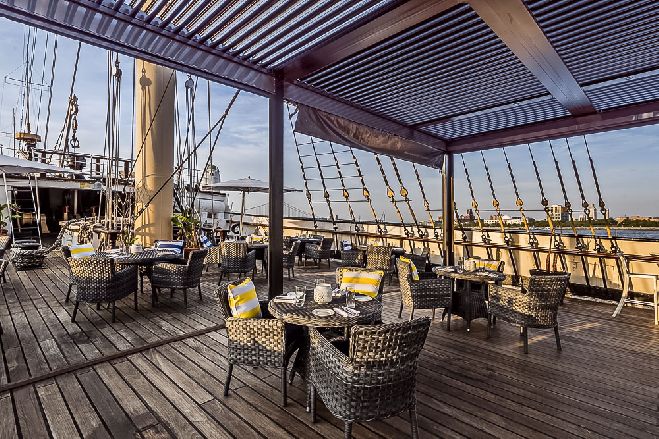 'BURBS BONUS- TERRAIN GARDEN CAFE
914 Baltimore Pike, Glen Mills
"One of the country's most sought-after and historic garden centers turned its rustic, fern-filled greenhouse into a brunch-through-dinner dining spot that's become an attraction on its own. Offering seasonally changing brunch, lunch, and dinner menus featuring hand-selected local produce, meats, and dairy alongside a thoughtfully curated beverage program from near and far. Served in a deliberately designed environment to blur the line between indoor and outdoor spaces, each cafe's décor is unique, providing an inspiring dining experience every time."